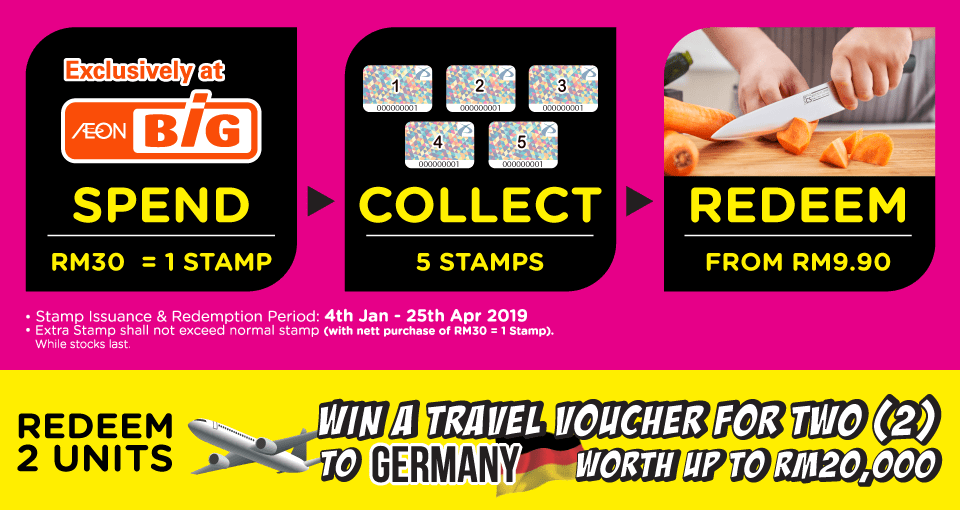 Get Extra Stamp with purchase from these participating brands
5 stickers collected to redeem 1 knife


View full terms and conditions
CSK ISERLOHN KITCHEN KNIVES COLLECTION REDEMPTION PROGRAMME
Terms and Conditions
1. CSK Iserlohn Kitchen Knives Collection Redemption Programme ("Campaign") is open to all citizens and permanent residents of Malaysia (including and not limited to AEON BiG (M) SDN BHD ('AEON BiG' or 'The Organiser') employees and its affiliates) currently residing in Malaysia and above the age of 18 years old on or before 4th January 2019 ("Participant").
2. This Campaign is available from 4th January 2019 until 25th April 2019 at all AEON BiG hypermarkets nationwide.
3.STAMP ISSUANCE:
3.1.Participants must spend a minimum purchase of RM30.00 in a single receipt at any AEON BiG hypermarkets to earn one (1) stamp under normal stamp (excluding any purchase of Health Lane Family Pharmacy, Hamper, Mobile Top Up, Gift Card, Cigarette, CSK Iserlohn Kitchen Knives Collection, or any other Redemption Items and/or AEON BiG's Membership Card / AEON Member Plus Card point redemption).
3.2. Extra stamp shall not exceed the entitlement of normal stamp. Participants will be awarded extra stamp with purchase of selected products by the participating brands. The Organiser reserves the rights to limit any products for the entitlement of extra stamp.
3.3. To redeem any one (1) unit of the six (6) designs under CSK Iserlohn Kitchen Knives Collection, participants are required to collect five (5) stamps.
| | | | |
| --- | --- | --- | --- |
| No. | Item | Total Stamps Required | Unit Price for Redemption |
| 1 | CSK Multipurpose Scissors | 5 | RM9.90 |
| 2 | CSK 12cm Utility Knife | 5 | RM14.90 |
| 3 | CSK 20cm Carving Knife | 5 | RM22.90 |
| 4 | CSK 19cm Santoku Knife | 5 | RM24.90 |
| 5 | CSK 20cm Chef Knife | 5 | RM24.90 |
| 6 | CSK 17cm Chopper | 5 | RM29.90 |
3.4. Participants are required to stick the collected stamps on the Collector Card for redemption purposes. It is made available at AEON BiG Customer Service or Cashier Counter.
3.5. Participants may collect as many stamps and Collector Cards as they wish. Stamps and Collector Card that are amended, damaged, defaced and/or not satisfactory in any way whatsoever will be rejected at AEON BiG's sole and absolute discretion.
3.6. AEON BiG shall not be responsible for any losses or damage of stamps or Collector Card and no replacement shall be provided.
3.7. All stamps are strictly not returnable or exchangeable for cash. In the event whereby Participant choose to return the purchased goods and accepted by AEON BiG, the Participants shall surrender the stamp(s) if it causes reduction of the total amount and the stamp's eligibility of a particular receipt.
4.REDEMPTION:
4.1. Participants shall furnish their Collector Card with five (5) stamps to redeem any one (1) of the six (6) designs under CSK Iserlohn Kitchen Knives Collection at AEON BiG customer service counter.
4.2. For Maybank customers, they may use Maybank debit, charge card or credit card with five (5) stamps to purchase any two (2) units at special price as per Clause 3.3 each.
4.3. Participants may redeem any unit based on their own preference.
4.4. Participants who redeemed any six (6) CSK Iserlohn Kitchen Knives Collection in a single receipt will receive a CSK Sharpening Steel for free. The free CSK Sharpening Steel is limited to first 1,000 participants, and only available on first come first serve basis and while stocks last.
4.5. Participants shall furnish their Collector Card at any AEON BiG Customer Service counter for verification and redemption purposes, and required to surrender the Collector Card upon successful redemption.
5.WARRANTY & RETURN POLICY:
5.1. Participants shall check the physical unit during redemption to ensure the condition of CSK Iserlohn unit to be redeemed is free from any manufacturing defect. Participants are to ensure that the CSK Iserlohn unit redeemed is the desired design before purchasing. AEON BiG shall not have the liberty to entertain any request for exchange upon purchase.
5.2. Participants may return and request for replacement of the redeemed unit due to manufacturing defect or damage (excluding wear and tear) accruing not as a result of wilful misuse, gross negligence or any other intentional acts of the Participants to AEON BiG and AEON BiG shall replace the unit at no cost to the Participants. This exchange policy shall only be effective for seven (7) days from the date of redemption and any request for replacement after the said period shall not be entertained.
5.3. Participants shall take note of the use and care, and warning stated on the packaging of CSK Iserlohn Kitchen Knives Collection.
5.4. The CSK Iserlohn Kitchen Knives Collection is intended to be used for kitchen use only. Participants are obligated to ensure that the knives redeemed are used responsibly. AEON BiG shall not be held responsible for any injury, damage or loss caused as a result of Participants' misuse and/or negligence of using the CSK Iserlohn Kitchen Knives Collection.
6. The CSK Iserlohn Kitchen Knives Collection is only available for redemption purposes and cannot be sold to any third parties.
7. Point Collection for AEON BiG's Membership Card / AEON Member Plus Visa Card is not valid for this Campaign.
8. The Organiser reserves the right to amend and/or change the Terms and Conditions of the Campaign at its sole and absolute discretion at any time without prior notice.
9. All instructions and/or any other specific requirements relating to the Campaign (if any) shall form part of these Terms and Conditions. By participating in the Campaign, Participant is deemed to have read and understood the Terms and Conditions and specific requirements therein (if any), agree to be bound by them and abide by the decision of AEON BiG.
10. All/any questions and inquiries about Campaign can be emailed to customer.careline@aeonbig.com.my.
11.The Terms and Conditions of this Campaign shall be governed and construed in accordance with laws of Malaysia.
12.All/any result and/or decision arising from the Campaign shall be final. No correspondences, queries, appeals, or protests will be entertained.
PRIVACY NOTICE
Your personal data includes your name, NRIC number, contact details, email address, address, Member Card number (16 digits) and Transaction number, and any publicly available information available on social networking websites will also be recorded, stored or otherwise processed by AEON BiG for its purposes relating to the CSK Iserlohn Kitchen Knives Collection ("Purpose") for advertising, publicity, marketing and communication. Please be informed that your personal data may be disclosed to AEON BiG's affiliates, service providers and relevant business partners (if any) for the Purpose and as permitted by applicable data privacy laws. You may request for access to or correction of the personal data, submit enquiries or complaints, or limit the processing of the personal data at any time hereafter by submitting such request to AEON BiG via e-mail at dataprivacy@aeonbig.com.my. Please note that it will be necessary for us to process your personal data for the Purpose, without which you will not be able to participate in this Campaign.
(Terjemahan Bahasa Melayu)
Maklumat peribadi anda termasuk nama anda, nombor Kad Pengenalan, maklumat perhubungan, alamat e-mel, alamat, nombor Kad Ahli (16 digit) dan nombor transaksi termasuk apa-apa maklumat umum yang boleh didapati di laman web rangkaian social akan direkodkan, disimpan atau diproses oleh AEON BiG untuk tujuan yang berkaitan dengan pengurusan Koleksi Pisau CSK Iserlohn ("Tujuan") dan untuk pengiklanan, publisiti, pemasaran dan komunikasi yang berkaitan dengan AEON BiG. Sila ambil maklum bahawa data peribadi anda mungkin akan didedahkan kepada sekutu AEON BiG, pembekal perkhidmatan dan rakan perniagaan yang berkenaan (jika ada) untuk Tujuan tersebut dan sebagaimana yang dibenarkan oleh undang-undang data privasi yang berkenaan. Anda boleh meminta akses atau pembetulan data peribadi anda, mengemukakan pertanyaan atau aduan, atau mengehadkan pemprosesan data peribadi anda pada bila-bila masa selepas ini dengan mengemukakan permintaan itu kepada AEON BiG melalui e-mel ke dataprivacy@aeonbig.com.my. Sila ambil perhatian bahawa kami perlu memproses data peribadi anda untuk Tujuan tersebut, jika tidak anda tidak akan dapat menyertai Kempen ini